We set up in a day and considering there were 9 of us altogether we got the job done pretty efficiently. We met early on the Thursday and kindly Stephen and Georgia had brought their cars so we piled in the work and did a few trips to and from MadLabs. Once all the work was at the venue it was a matter of setting up the ground floor, then waiting until the top floor had finished with whatever event was going on at the time. I must admit we worked well as a team, and once the bottom floor was completed some of us popped out for a cheeky lunchtime curry in one of the Northern Quarter's Indian 'greasy spoons'. It was tasty and a bit of a novelty but it was so nice just chilling with the others, we all get on so well. We also had Helen Wheeler now in the mix so she was with us and installing her very delicate and beautiful sculptures.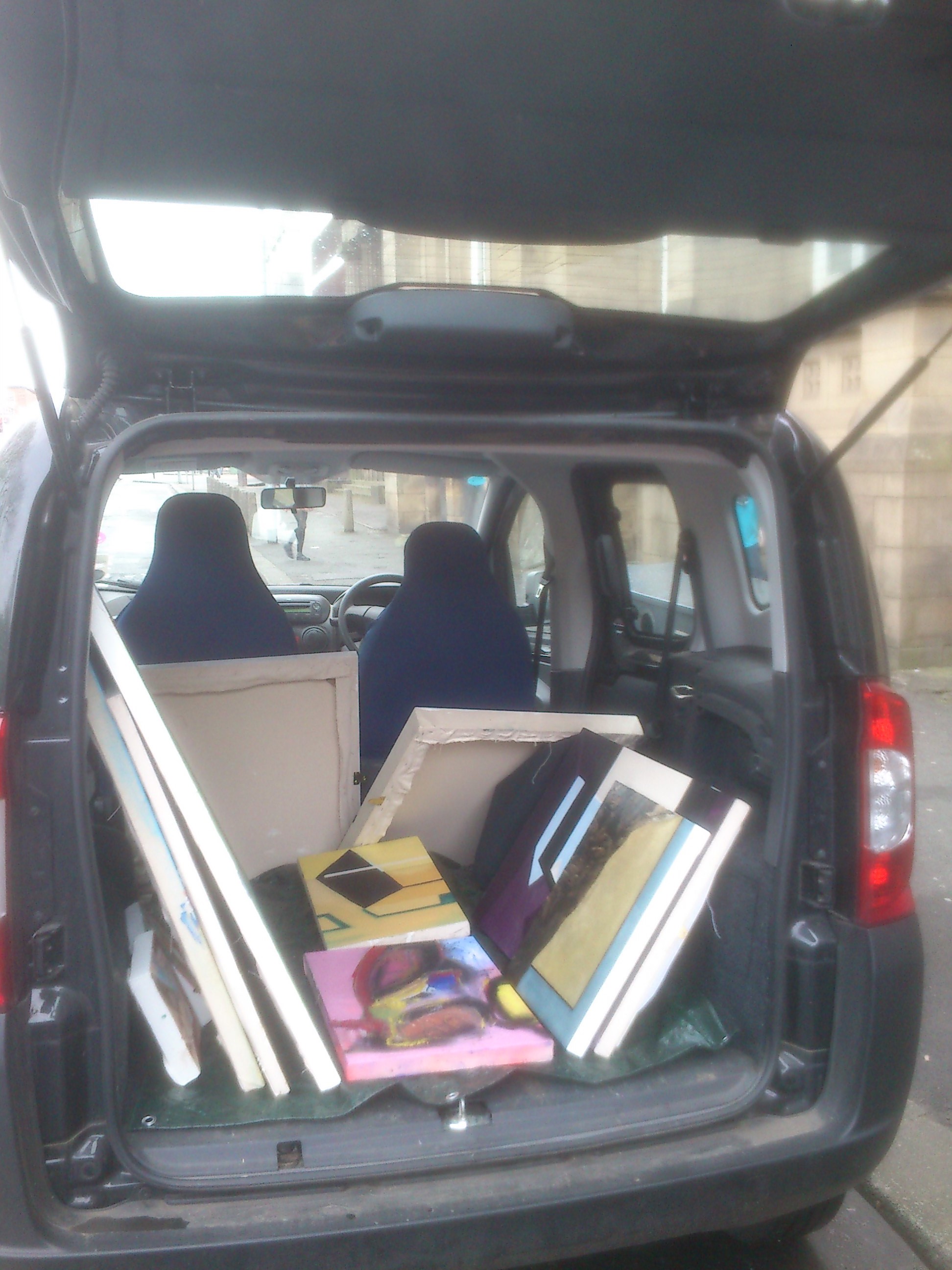 One of a couple of trips to the venue on the Thursday morning. This is Stephen's car, Georgia also drove taking some work.
Ground floor setting up. Because there was a meeting going on upstairs during this period we couldn't be too loud, however the one drill we had made an absolute racket causing a little stir to begin with. Stephen helped a lot here as it was drilling into solid wall most of the time, we didn't want too many poor attempts. Only having one drill slowed the process but we all had jobs to do.
Putting up Mungo's work. We all had measured up our individual pieces and secured hanging devices to them.
That table became very useful
A finished corner. We had plenty of drinks, we all chipped in and bought beer and wine- in the end it was the perfect amount. Georgia had her car and offered to buy the drinks.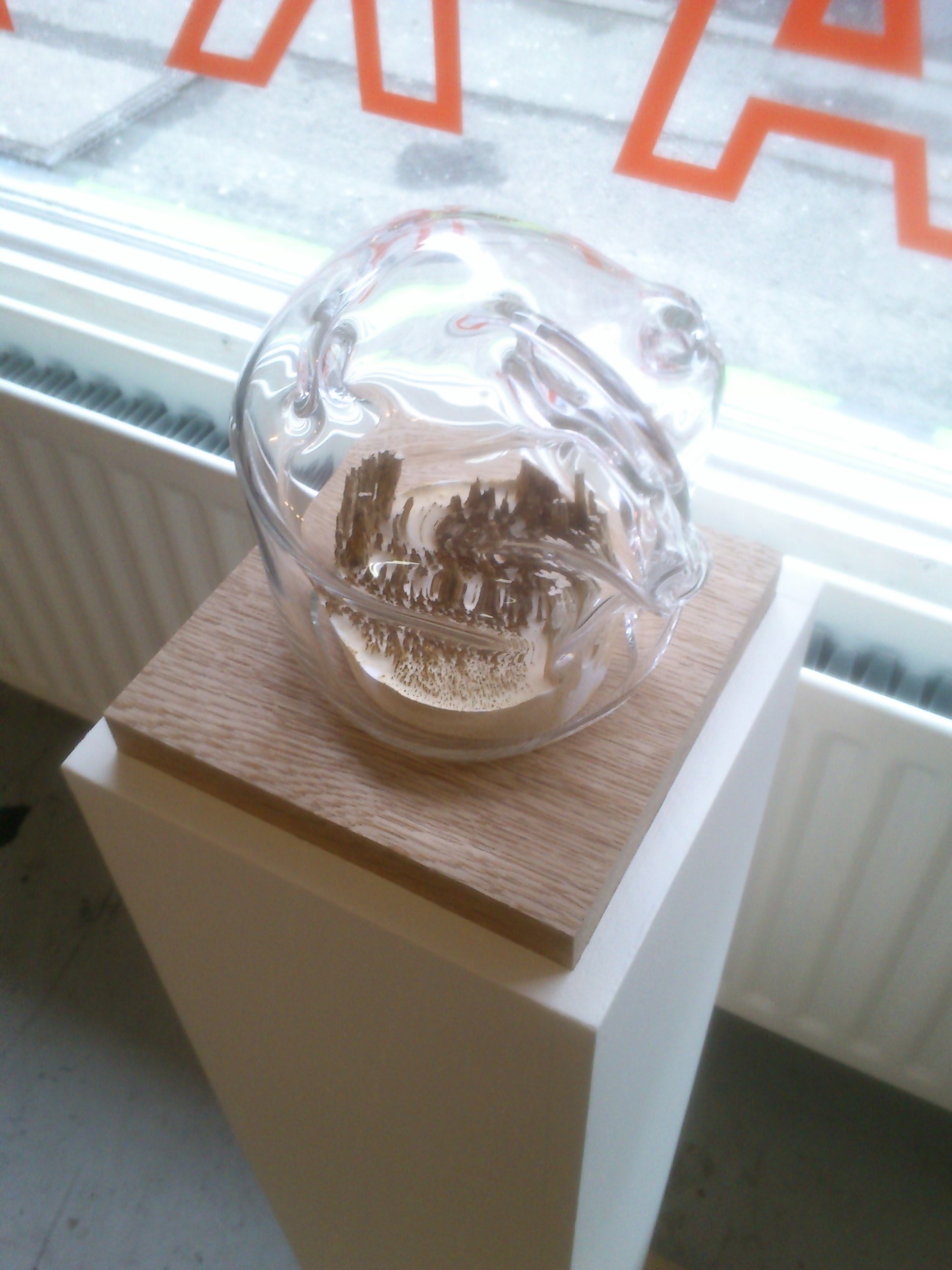 Helen's glass dome sculpture at the front window of Madlabs. She uses iron fillings with wax/plaster and then produces the form by using strong magnates.
Another Helen dome with weird distortion.
Once upstairs became free we had around around 2 1/2 hours to get the upstairs ready. It was tight but none of us panicked which was good. Stephen then showed us a master-class of wood and frame.
Putting up the structures, each piece was marked and set by Stephen so there was little querying. It was all a big pre-made structure.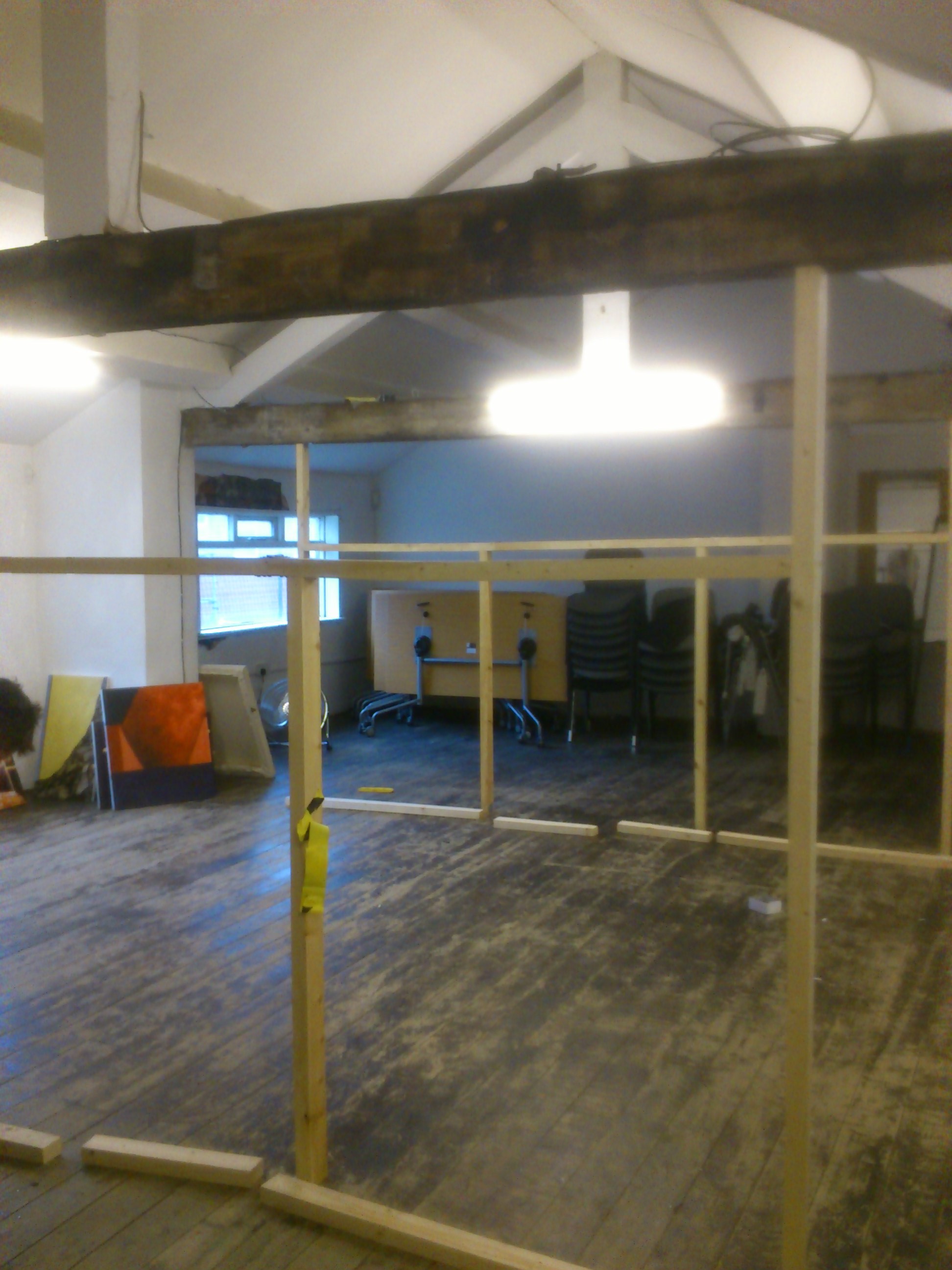 Stephen then had large white paper rolls which where then rolled over the bars to give the white backing. It was a delicate job as we didn't want the paper to rip or become floppy etc. A staple gun was used to secure it to the wood beams and make it taight.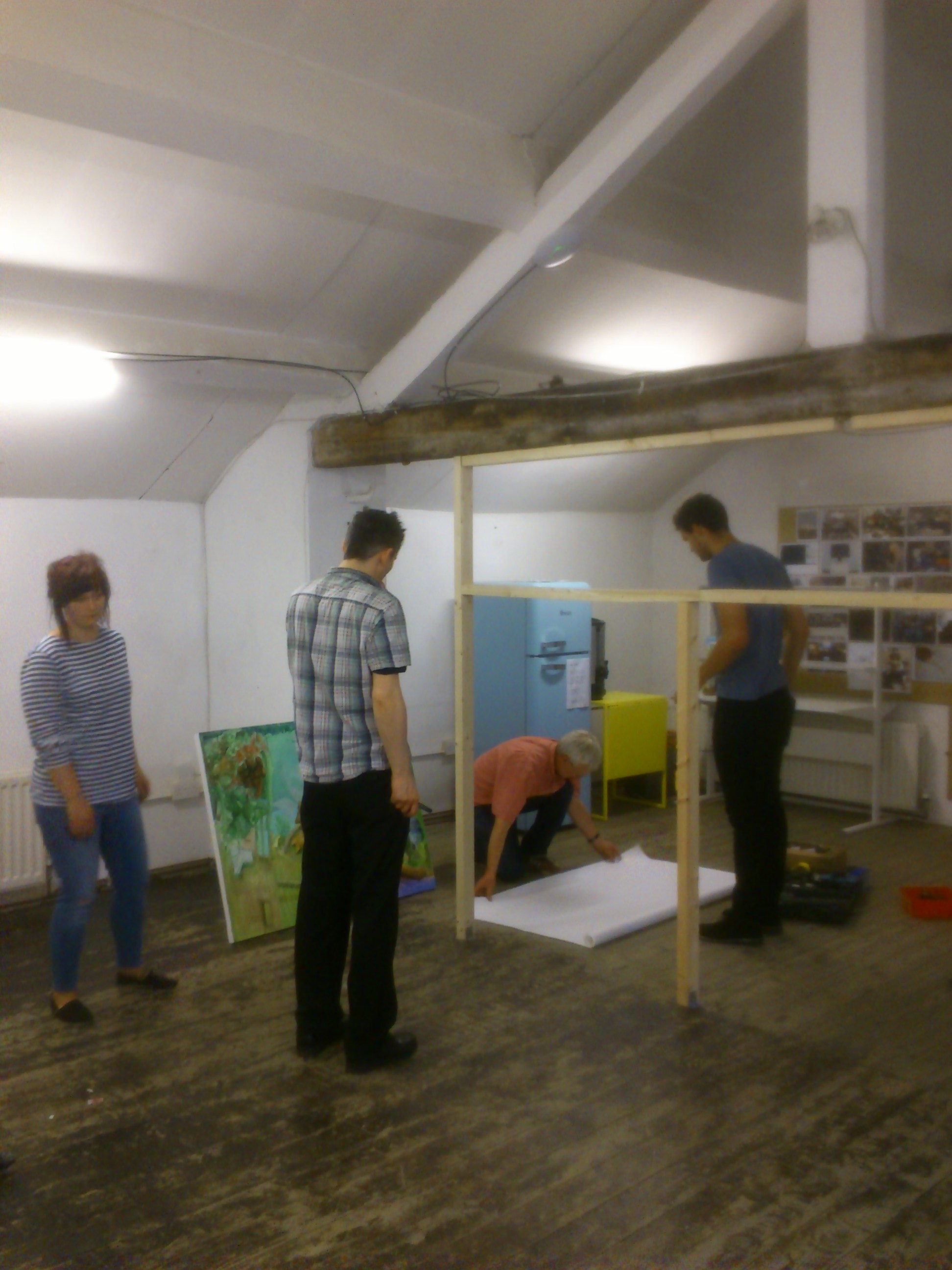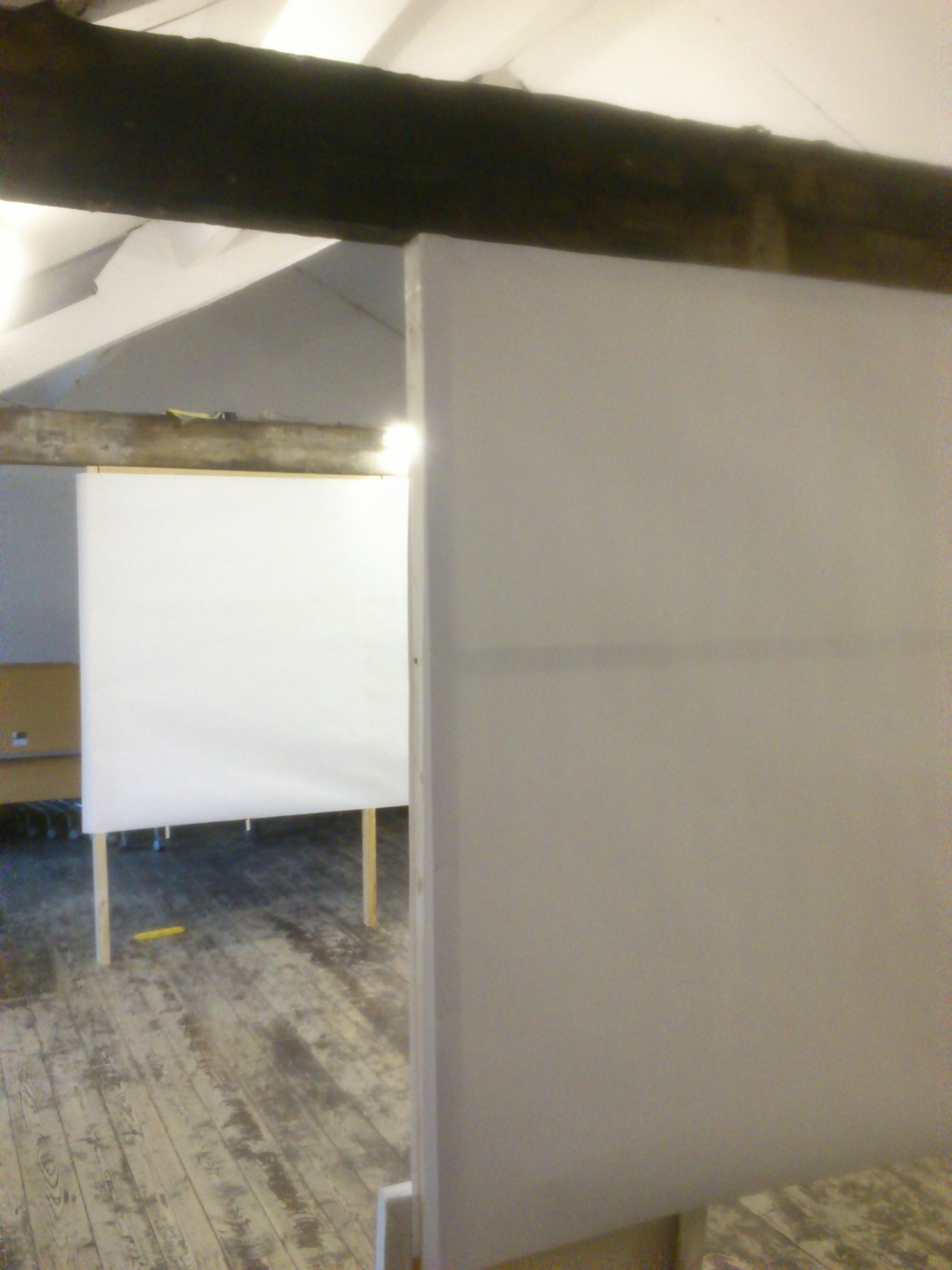 The finished article, ready for the works to be drilled into place.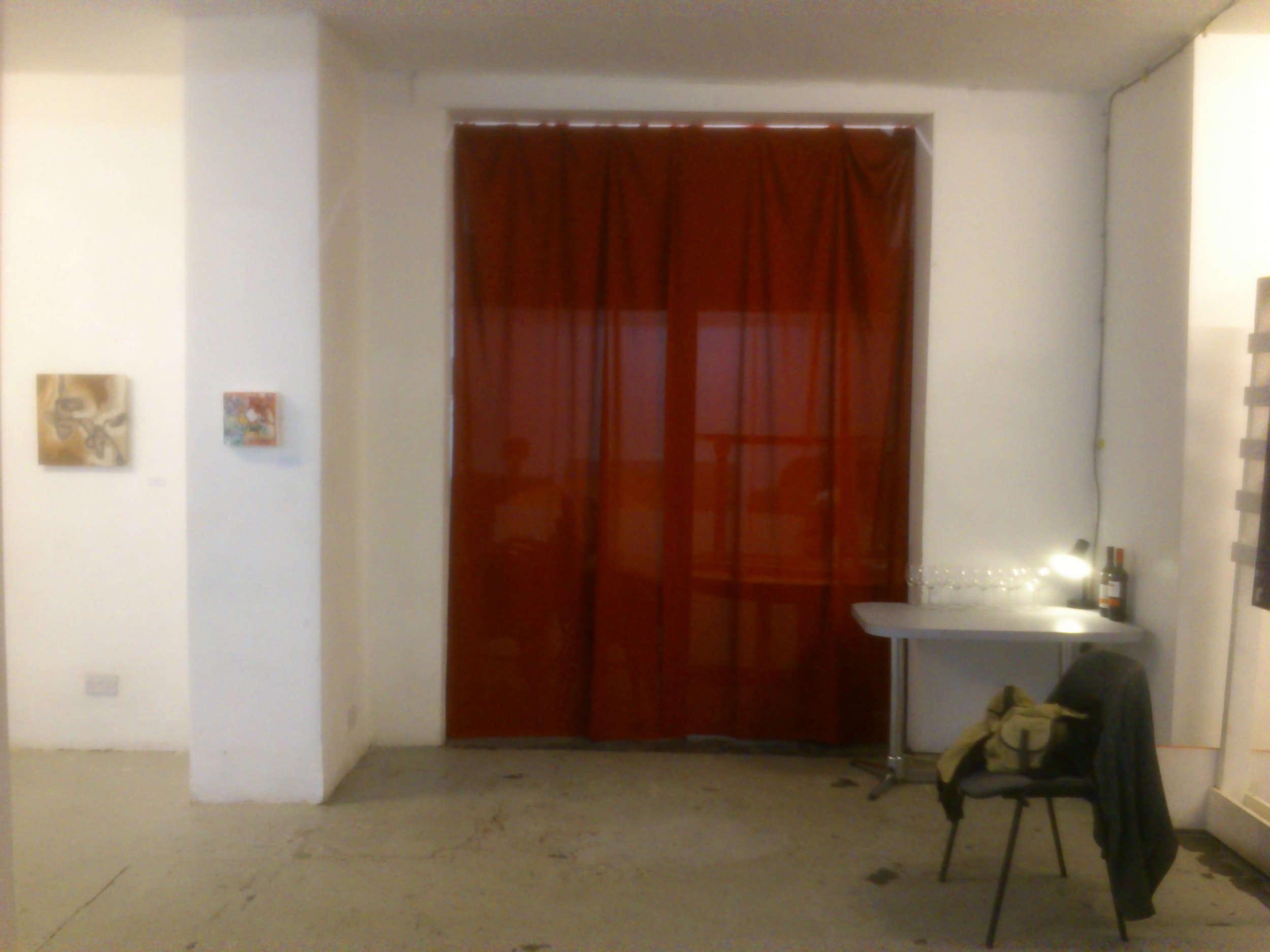 That curtain even had an effect on the place.
Mungo supplying the fridge with plentiful beers.
Documenting the documentation.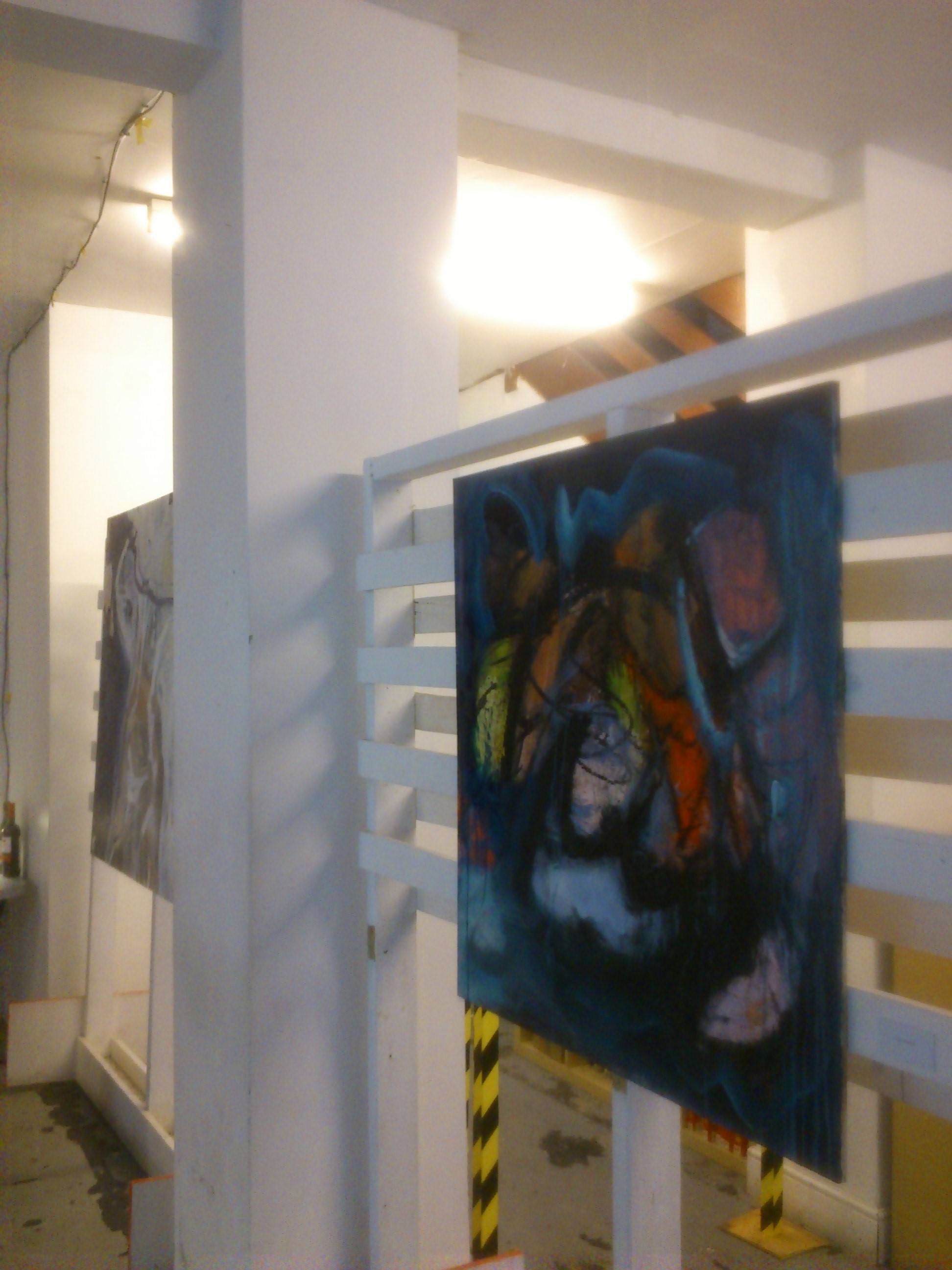 Dave's piece hanging beside Kelly's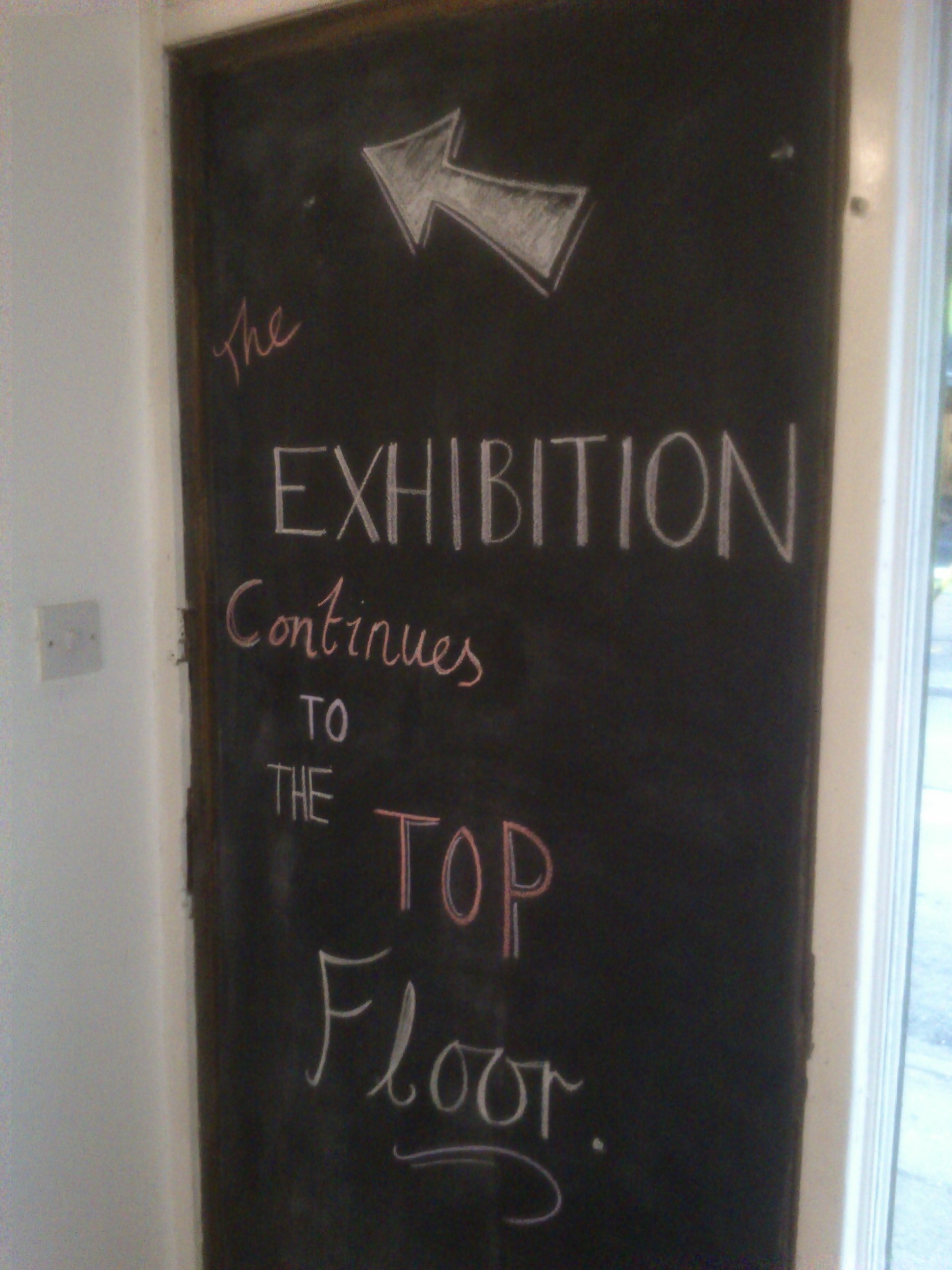 Brilliant that MadLab's had a chalkboard. Georgia hand drew some signs to show visitors where to go. Looked really good and made the exhibition flow well.
Georgia wanted her work together so she was allotted a wall on the top floor. It was casual whether we wanted to jumble the works, but having Georgia's work together and then having the other works mixed added extra to the hang.
Mungo's piece on the column.
The paintings sat very well on the new walls even though they were paper. We have myself, Kelly and Dave's work here.
Another directional sign. Without these, it would have been difficult. They let people know what to do- simple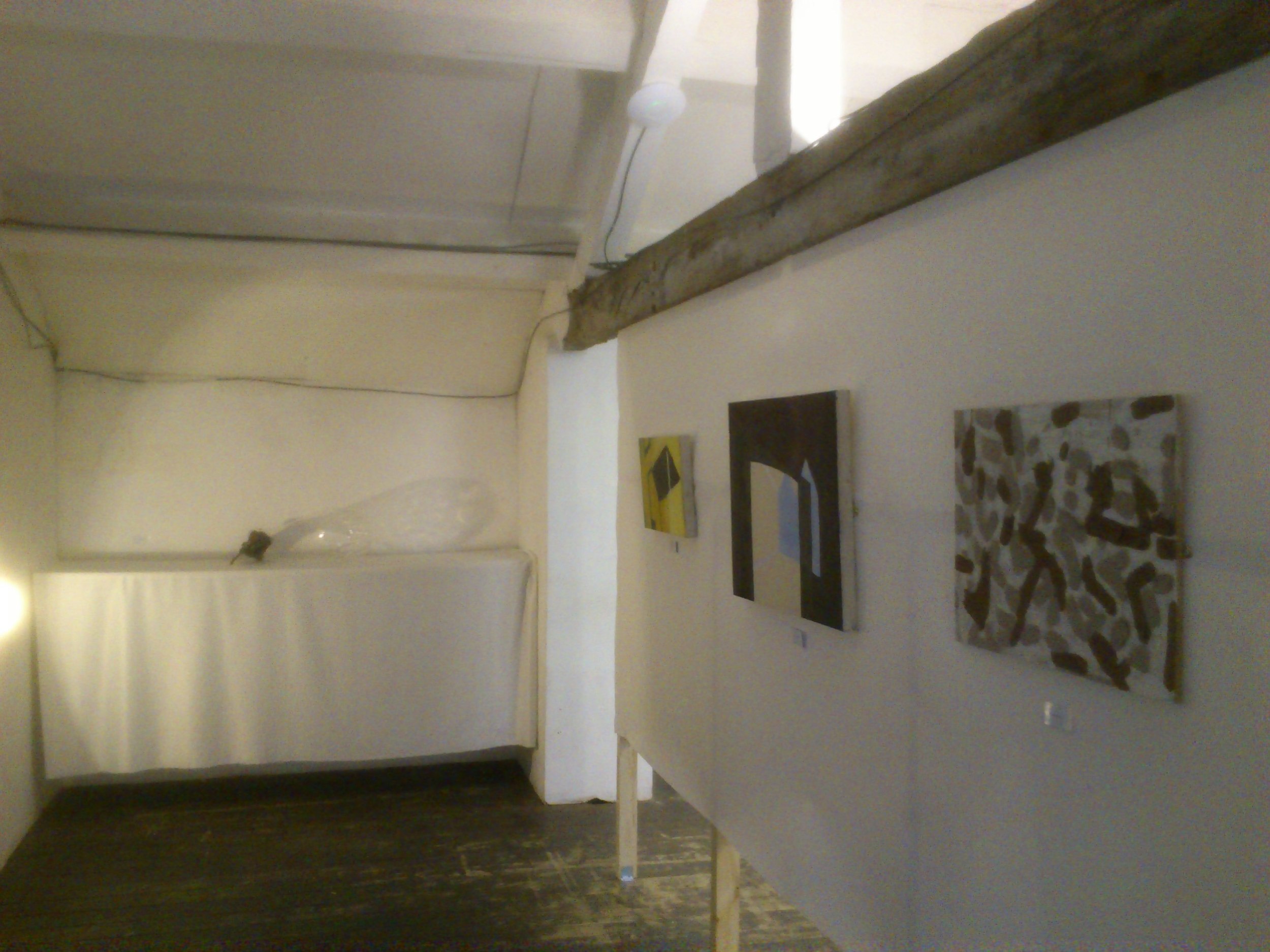 At the back we had Helen's sculpture on the far wall, then Stephen and Ben's paintings.
I put one of my works here because it was a strange dark bit of the building. The history of the building is right here with all the evidence of decay. Having artwork mingle with this is rather interesting.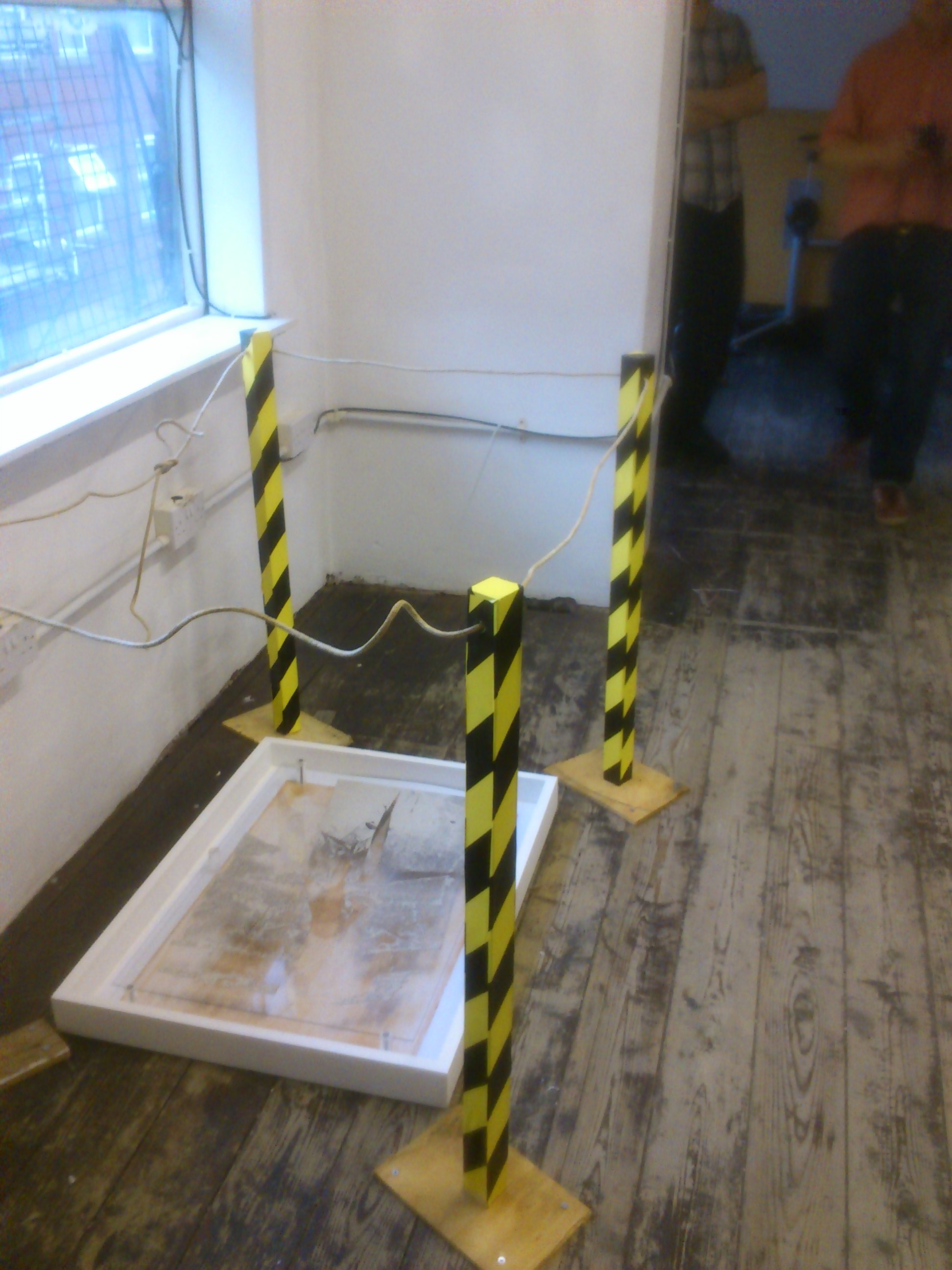 A work by Stephen- broad range of works were on offer.
My piece with Kelly's and David's
Georgia's work looked very good in the different lights.
Myself, Mungo and Ben shared this wall. I really think the works complimented each other, not one looked out of place.
We also included name tags with our paintings, little simple designs.
Part of the crew just as we finished the set up- now time for the show in around 20 mins. It was all timed to perfection.
Dave, Ben, Stephen, Helen, Mungo and Andrew. Sadly Kelly and Georgia were on the bottom floor
As you walked up the stairs to get to the top floor, you'd also pass this other work by Helen. It was a nice touch because otherwise it would have separated the areas, instead it interlinked the bottom gallery to the top. It became a continuous flow of work.